Experience a New Breed of British Pubs
"There is nothing which has yet been contrived by man, by which so much happiness is produced as by a good tavern or inn."
- Samuel Johnson
[For an enhanced British Pub experience, read about us in your finest English accent!]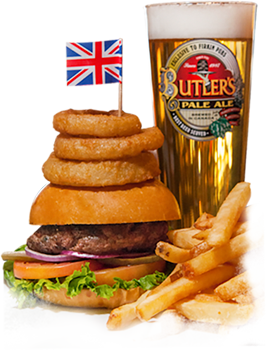 We believe in what the wise Samuel Johnson once said -
"The local British pub is
the heart of the community"
At Firkin Group of Pubs, we honour the long-held tradition of the best pubs by offering our patrons a familiar and authentic British pub experience. We don't just simulate the look. We combine delicious food, cocktails, and pints with the fun-loving atmosphere of a real British pub. We are the new breed of British Pub and the best pub in town. We are your local retreat from the daily grind; we are a place for you to hunker down with your mates and have some fun.
The Best Pubs
The Firkin Group of Pubs has been offering unparalleled quality and service to the British pub industry for over 27 years. We have spent just under 3 decades perfecting our recipes, cocktails, and customer service values in order to provide you the most authentic and enjoyable experience possible.
The best British pubs are stylish and sophisticated, but without pretention - a truly genuine experience with a fresh, modern twist. From the décor to the pub fare, the Firkin pubs are reminiscent of Britannia, with an innovative flair that is sure to quench your thirst for excitement and entertainment.
Locations
The Best Restaurants & The Best Bars in Town
If you happen to have an endless appetite and an unquench-able thirst, look no further. The Firkin Group of Pubs are happy to simultaneously boast the best bars, the best restaurants, and the best pubs in one. Our daily bevvy and bite specials combine the most refreshing brews and the tastiest bites into one affordable and delicious package.
Our food and drink specials differ from day to day and from hour to hour for plates that suit your every mood. If you're having a drink (or a few) after the dinner hour, take a look at our Late Night Munchies menu for the best bar food and finger-licking snacks.
If you've decided to bring your friends along, consider ordering one of our shareable Firkin Platters. Pig out on a dozen sliders or order a more sophisticated Hodge Podge Platter complete with goat cheese dip and sweet potato fries. For a perfect ending to the best restaurant experience you've ever had, indulge in our traditional British sticky toffee pudding... if you can handle it!
There's something for everyone at the Firkin Group of Pubs - making us a collection of the best British pubs in town. If you don't Adam and Eve it, get on the dog with your China and grab some pig's ears at the Firkin rub! (Translation for the uninitiated: If you don't believe it, get on the phone with your mates and grab some big beers at the Firkin pub!)
... You'll get the hang of that after a few visits.
Firkin Brunch - The Most Important Meal of the Weekend!

Saturday & Sunday until 3pm
It's eleven o'clock on a Saturday and you've just woken up – too late for breakfast and too early for lunch. You're forced to pick a side: bangers or eggs, pancakes or French fries. Lucky for you, the best restaurant in town transforms your hour of indecision into the best happy hour ever. Yes we're reclaiming the happy hour... it's the Firkin brunch hour!
We combine the finest of both worlds with one-of-a-kind dishes like our original Breakfast Spuds. Our home style fries are tossed with velvety cheese curds, salty and savory Guinness Gravy, crunchy bacon, and then topped with a perfectly poached egg. Who ever said you can't put eggs on your chips 'n' gravy?
Sounding a little bit too original for your taste? If you're not feeling adventurous enough to try our cheesy Breakfast Spuds, you could indulge in one of our more traditional English breakfast dishes. The best British pub is one that makes you feel comfortable, no matter what your taste buds prefer. From our Beer Brats, Beans & Eggs to our Granola & Yogurt Breakfast Bowl, we serve dishes that will satisfy even the most eclectic group of friends. We wouldn't be able to call it the Firkin best brunch in North America if we didn't have something for everyone!
It must be 5 o'clock somewhere. Whether you're recovering from a late night at the best pub in town (wink, wink) or you're starting off your Saturday the right way, there's a Firkin drink special that's perfect for you. We offer bubbly Mimosas for those leaning on the breakfast side of brunch, and flavorful Caesars for those leaning on the lunch side.
Brunch Locations & Hours
Drop by on Saturday or Sunday before 3pm to enjoy the best happy hour with a long-held English tradition. The Firkin best brunch in North America is only available at select locations, so be sure to visit your local Firkin website to find out if you're one of the lucky ones!
The Best Burger at Your Local British Pub
Have you ever waited twenty minutes at a restaurant only to receive a mediocre burger on a deflated bun? We have felt your pain; and we have heard your prayers. We're the best restaurant in town because our promise is to never deliver such an atrocity to your table. At Firkin, we serve up the best burgers in the world for meat lovers and vegetarians alike.
The best burgers are fresh, never frozen, and made from the purest ingredients. At a Firkin British pub, you can rest assured that you're getting the freshest and juiciest burgers in your neighbourhood. Our burgers are made from 100% ground chuck – and they are dressed to impress. Descend into burger bliss with our sizzling Firkin Burger, topped with melty Monterey Jack cheese, crisp bacon, and our specialty beer braised onions.
Looking to go lean? Our Turkey Burgers are painstakingly constructed to be just as juicy and perfect as our all beef burgers. The Firkin Turkey Burger is topped with roasted red peppers and goat cheese to create a dynamic assortment of flavours and textures. Going lean doesn't have to mean going bland!
Don't worry vegetarians, we haven't forgotten about you. In fact, we've put many hours into making our vegetarian burger the best burger it can be. We soon discovered that our creation could convert even the most committed carnivores! Firkin's mouth-watering veggie burger is made from black beans and topped with fresh Pico de Gallo and guacamole. We even offer some gluten-free* options for our bun-less buddies. Healthy and delicious... who would have thought?
Visit a Firkin British Pub near you and discover the best burger for you – customize it, leave it to us, or try something entirely new. Whether you want it plain and simple, dressed to the nines, or lean and green, Firkin has the best burgers in town.
All of our burgers come complete with a generous portion of both golden onion rings and crispy pub-style chips. How's that for an upgrade?